The town center of the tiny coastal town of Cayucos, California is easy to navigate.  It's a few straight blocks that run parallel to the coast.  You can walk it in about 20 minutes and check out all the local restaurant, bar, and shop options to see which best suit you.  Never-the-less, here are are few ideas to get you started:
PLACES I'VE EATEN, CAFFEINATED, AND DRANK IN CAYUCOS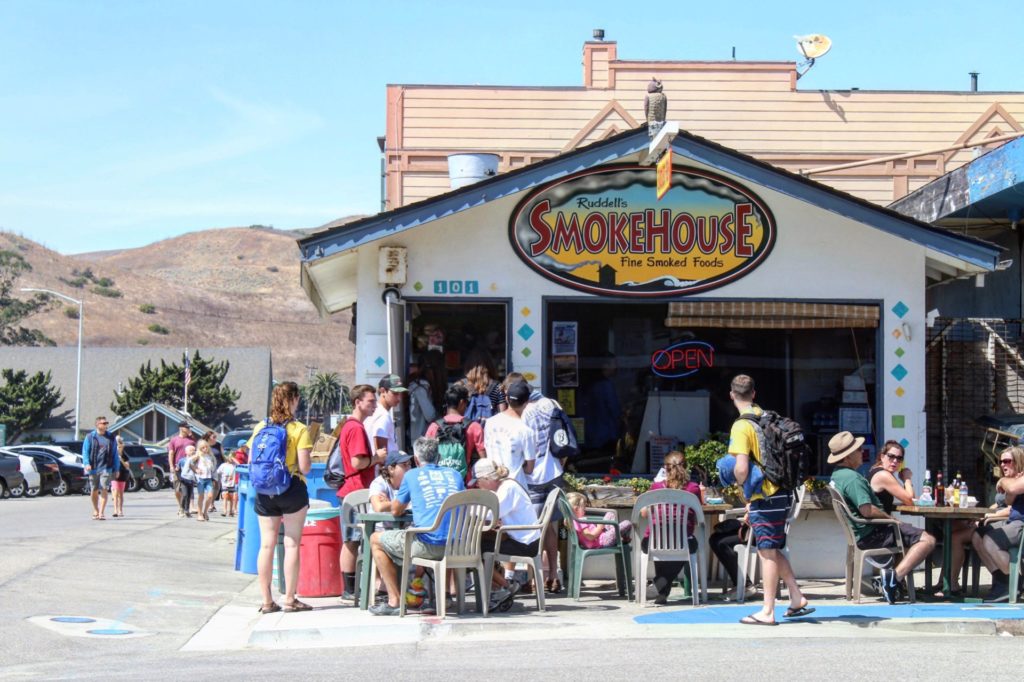 Ruddell's Smokehouse – Damn delicious smoked fish tacos and sandwiches with no unnecessary frill.  Go for lunch (because they close at 6) and if it's nice enjoy yours on the beach.
Website: http://www.smokerjim.com
Address:  101 D. Street, Cayucos, CA 93430
Duckies Chowder House – Chowder (or as I prefer to say CHOWDA'), fish and chips, local brews in a casual, order at the counter atmosphere.  Spacious interior, no drinking on the porch.
Website: http://www.duckieschowder.com
Address:  55 Cayucos Dr, Cayucos, CA, 93430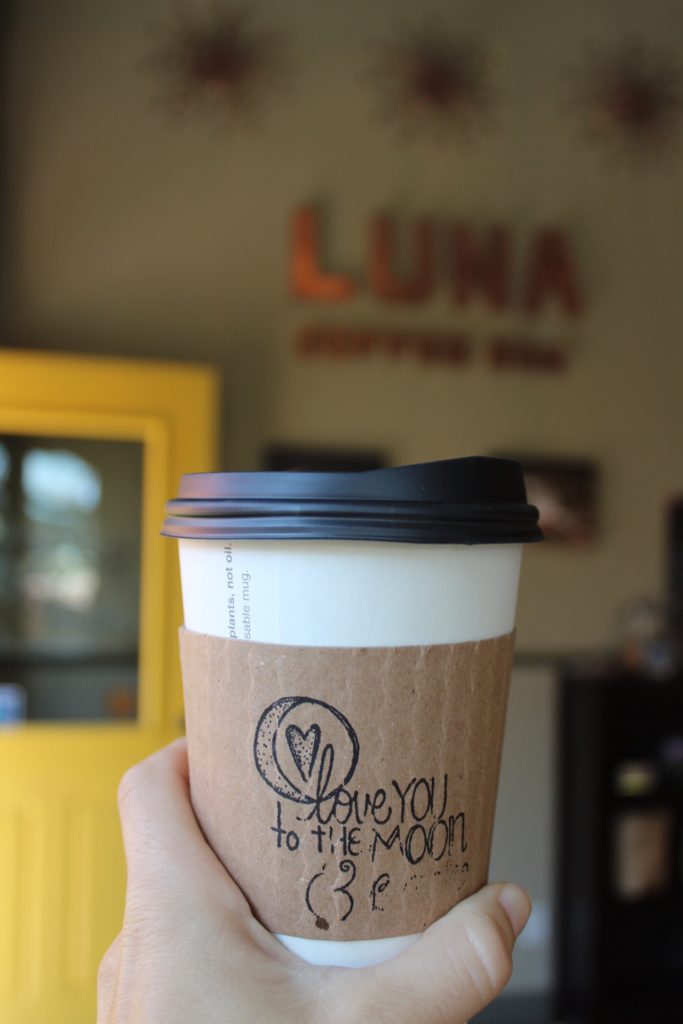 Luna Coffee Bar – Killer coffee, home-made sweets and breakfast burritos at reasonable prices in a quaint, relaxing atmosphere with cute outdoor mini-garden.
Facebook Page: https://www.facebook.com/coffeeatluna/
Address: 84 N Ocean Ave, Cayucos, CA 93430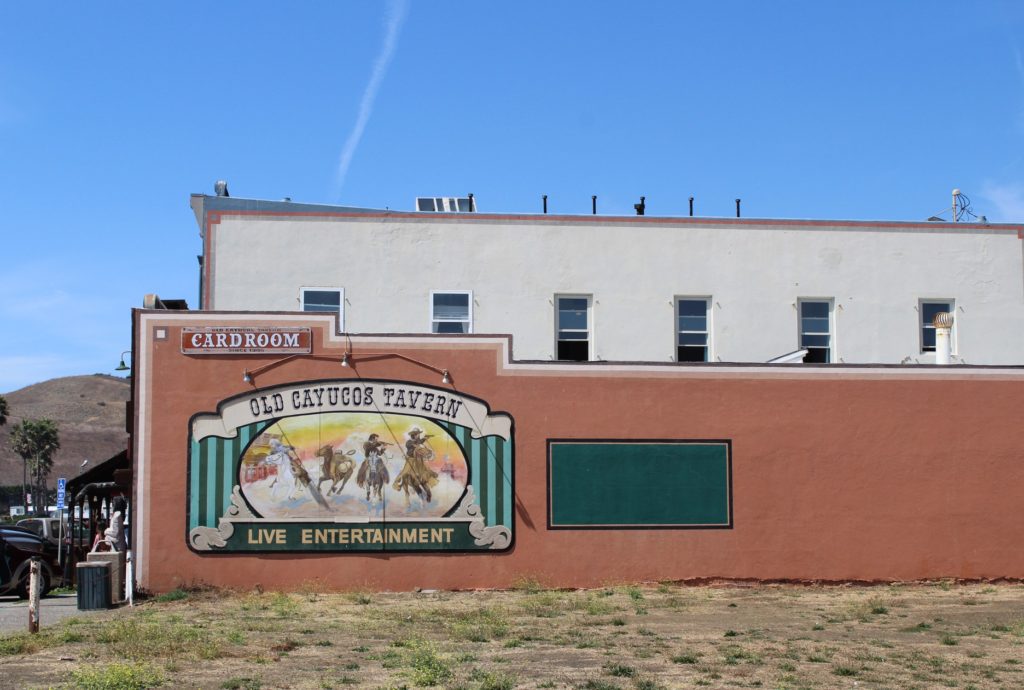 Old Cayucos Tavern and Cardroom – Casual, cash only bar with pool and poker.  This IS your sole late night option in the Cayucos town center.  Let loose, everyone else is.
Website: http://www.oldcayucostavern.com
Street Address: 130 North Ocean Ave, Cayucos, CA 9343
OTHER PLACES TO EAT, CAFFEINATE, AND DRINK IN CAYUCOS
Brown Butter Cookie Store – Cannot believe I have not gotten a cookie here on one of my three Cayucos visits.  Shame on me!
Website: http://www.brownbuttercookies.com
Address: 98 N. Ocean Ave. Cayucos, CA 93430
Lunada Garden Bistro – Same home as Luna Coffee.  Farm-to-table dining.  Charming outdoor seating area.  Again, having missed food opportunity regret.
Website: https://www.lunadagardenbistro.com
Address: 80 North Ocean Avenue Cayucos CA, 93430
Cayucos Coffee – I've peeked in.  Larger than Luna and appears to have all the makings of a hip coffee shop.
Website: http://cayucoscoffee.com
Address: 155 N Ocean Ave, Cayucos, CA 93430
Schooners Wharf – Nautical themes restaurant with waterfront views.  American and seafood cuisine.  I'd try to get there at sunset.  Heard the Cool Burn cocktail is the drink of choice if you like spicy.
Website: http://www.schoonerswharf.com
Address: 171 N. Ocean Ave, Cayucos, CA, 93430
Skippers – Cash only restaurant with patio looking out to the water.  Breakfast, lunch, and dinner basics.  Seems to be a popular spot for a good deal on a hearty portion of breakfast.  Not the same place as Schooners but easy to confuse the names given their close locations.
Facebook: https://www.facebook.com/Skippers-Restaurant-176419982410689/
Address: 113 N. Ocean Ave, Cayucos, CA 93430
Full Moon Wine Bar & Bistro – Wine bar serving wines from local Central Coast wine country (think: Paso Robles) with the necessary food accompaniments like cheese, meats, and other bites.
Facebook: https://www.facebook.com/Full-Moon-Tasting-Room-86694766168/
Location: 10 N Ocean Ave, Ste 212, Cayucos, California, CA 93430
If you stumble across any other favorites while in Cayucos, let me know so I can work them into my next trip.
SaveSave